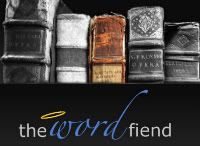 It's time for my new feature A Perfect Ten, where bloggers talk about their top ten favourite series of all time! Today I am being joined by Shelagh from The Word Fiend. She has got an amazing blog that you should all go check out!
Shelagh was able to pick ten series to tell us all about but had trouble sorting them into any kind of order, so here are her picks in random order:
The Dresden Files by Jim Butcher
I picked up my first Jim Butcher on a whim. I liked the look of the cover and the story sounded like it would be fun. That's all it took. The
Dresden Files
were my gateway drug into the world of Urban Fantasy and once there I never wanted to leave. I love how Butcher's writing has matured as the series has progressed and how he's not afraid to challenge his characters. Harry is a hero you can really get behind and the cast of characters that has developed over time are like family now.
Skulduggery Pleasant Series by Derek Landy
I read the first five books in the series back-to-back and I adored them! And book six was released this month (guess what's on my bedside table?). The adventure starts when Stephanie Edgley's uncle, a bestselling horror author, dies and she discovers that maybe not all of his stories were made up. Enter Skulduggery Pleasant, the skeleton detective who takes Stephanie under his wing. These books are a wonderful mix of comedy, action, adventure, horror and mystery and Landy's writing will suck you in from page one.
Artemis Fowl Series by Eoin Colfer
Looking back, the
Artemis Fowl
books were probably my first introduction to Young Adult fiction. And what an introduction it was! The author sums up the series as: "
Die Hard with fairies
." Need I say more? Colfer writes with intelligence and wit and has a great way with stories. These books have so many characters you will fall in love with. There's the boy-genius Artemis Fowl himself; his loyal and deadly bodyguard, Butler; tech genius centaur Foaly and Captain Holly Short of LEPrecon. Do yourself a favour and read these books.
Dexter Series by Jeff Lindsay
Dexter is an amazing creation as a character. Lindsay has presented us with a serial killer who shows no remorse for his actions or nature and we love him! The books are engaging and fast-paced. Dexter's unique perspective puts a fresh spin on the police drama.
Temperance Brennan Series by Kathy Reichs
While Kathy Reichs' books can be read as stand alone stories they are part of a larger story arc of character development that I would say classifies them as a series. I enjoy the science behind the stories and I love to try and solve the cases with Temperance. Reichs' writing style has loosened up over the years, becoming less rigid and scientific. For anyone with an interest in criminal investigation or mysteries these are a must-read.
Sandman Series by Neil Gaiman
Sandman
is a mind-blowing graphic novel series. The story and the amazing artwork combine to paint a lavish and enthralling story that draw me back again and again. Gaiman has combined philosophy, mythology, history and literature to create a unique experience. The central character of the series is Dream, the Sandman. He and his siblings are The Endless, the anthropomorphic manifestations of certain powerful constants such as Death, Desire and Destruction. This series will make you think, laugh and cry and I personally couldn't ask much more.
Hex Hall Series by Rachel Hawkins
I adored the first two books in this series and can't wait for book three to come out! Sophie Mercer is a fabulous character. I love her sarcasm, her sense of humour and her strength. The world Hawkins has created is rich and entertaining and I love my trips there through her books.
Intertwined Series by Gena Showalter
My reaction when I finished reading the first book in this series was: Hell Yes! Aden Stone has four human souls trapped in his head and has spent his whole life being bounced between foster homes and psychiatric hospitals because he talks to himself. Oh, and each soul has a unique paranormal ability. I loved that I could feel great empathy for Aden, but I never once felt sorry for him. Showalter's world of vampires, werewolves, witches and fairies is alive and dynamic. And did I mention the sexiness that is Aden and his werewolf friend Riley?
Soul Screamers Series by Rachel Vincent
I have only read the first book in this series so far, but I fell in love with Kaylee and the world she finds herself a part of. Vincent has offered readers a different take on the paranormal and I can't thank her enough!
The Belgariad Series by David Eddings
I reread this series about once every two years. It is the series that cemented my love for the Fantasy genre and the characters in it are like old friends. The plot is relatively standard Fantasy fare, but I enjoy how Eddings approaches it. A classic series that will always have a home on my shelf.
Thanks Shelagh! Would you believe I have only read one series from that list (Hex Hall) - looks like I've got lots of books to add to my TBR list! How about you? Have you read any of these series? Will you be adding any to your TBR list? Let Shelagh and I know what you think!
If you are an author/blogger who would like to take part in this feature then please email me at onceuponaseries [at] live.co.uk.