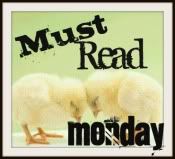 Today marks the start of a brand new meme over at Fans of Fiction. To take part all you have to do is pick a book that you loved from the chosen genre (today that is dystopian) and write an acrostic about it instead of using a blurb. This is a new and fun way to recommend books to other bloggers!
OK, so dystopian is a fairly new genre to me so I don't really have many to pick from. And as I've never done anything like an acrostic before, I'm going to choose the one with the shortest title - Matched by Ally Condie (sorry Jenna, I know you picked this one too!).
Become
M
atched at 17
Must
A
nswer
to the officials
T
wo boys in her life
C
annot make your own choices
Cassia
H
as found a love of her own
E
nd of the world as Cassia knows it
D
angerous times ahead
Right, so I'm thinking I may have to work on my acrostic writing skills :)
If you think you can do any better (and I'm sure you can do much better!) head on over to
Fans of Fiction
and join in the fun!